Product Description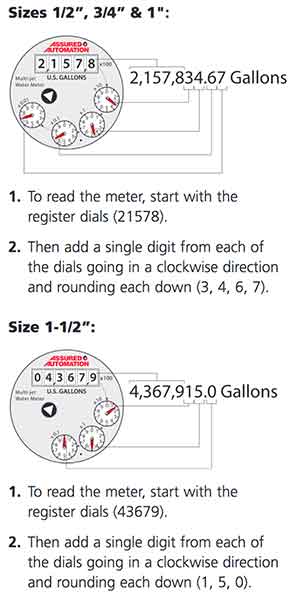 The WM-PC Series economy plastic water meter is excellent for residential water metering. It uses the multi-jet principle to measure flow totals. The gear train drives the register totalizer dials. In addition, a pulse
output is an option when you want to send the data to a remote location. The 1/2", 3/4" and 1" meters come set with 1 Pulse/Gallon (3/4" Cubic Feet set for 1 pulse/cubic ft) and the 1 1/2" meters come set with 1 Pulse/10 Gallons. This water meter is BPA free and NOW ARE NSF 61/372 CERTIFIED to meet lead free regulations. They are also designed to meet the AWWA C708 Standards.
These meters are frequently used as a low cost solution for residential water measuring. This product is the rare example of when inexpensive doesn't equal "cheap"! It's one of the least expensive water meters on the market and ideal applications would be using the WM-PC as a Sewer Deduct Meter or Summer Meter to monitor water that is used outdoors and never passes through to the sewer system. Many municipalities will allow home owners to deduct their outdoor water use from their sewer bill.
All meters come with plastic fittings.
Now Massachusetts approved!
*NOTE - Bulk discounts for basic meter only. Not applicable to add-on items like garden hose adapters

Download Datasheet for Details & Specifications

Download Manual for Installation & Maintenance
Download Massachusetts Accepted Plumbing Products Approved
Model No.
Size
Flow Rate (GPM)
Normal Flow (GPM)
High
Continuous
Low

WM-PC-050

5/8" X 1/2"

20

10

0.25

1-20

WM-PC-075

5/8" X 3/4"

20

10

0.25

1-20

WM-PC-100

1"

50

25

0.75

3-50

WM-PC-150

1 1/2"

100

50

1.5

5-100
WM-PC Materials & Specifications

Temperature

105

⁰ F (40⁰ C) max

Pressure

150 PSI operating max

Materials Body/Couplings

FRP (fiber reinforced polymer)

Internals

Engineered Thermoplastic

Magnet

Alnico

Accuracy

+/- 1.5% within normal flow rate

Sensor

Reed Switch

Maximum Current

20 mA

Maximum Voltage

24 Vdc or Vac

Cable Length

4.5' (1.35m) std (2000' max run)
Installation Notes:
Once the adapter ends are installed on the upstream and downstream pipes, the meter is installed by tightening the collar nuts onto the inlet and outlet of the meter. These "true-union" fittings then allow the meter to be easily rotated to the proper orientation (face up), or removed for cleaning, repair, or replacement.
IMPORTANT!
These meter threads look practically identical to the NPT adapter threads BUT THEY ARE NOT!
Trying to install the meter without the adapter will damage the pipe's threads, the meter's threads, or BOTH!
Specifications
Meter Type:
Multi-Jet
Connection Type:
NPT Threaded
Body Material:
Plastic
Installation Orientation:
Horizontal with Face Up
Pulse Output:
Reed Switch
Functions:
Totalizer Only
Lead Free Status:
NSF Certified Lead Free
Typical Shipping Time:
Usually same day or next day
Measurement Units:
Gallons (Cubic Feet in 3/4" only)
Accuracy:
+/- 1.5% of reading
Temperature Max:
105 Degrees F (40 Degrees C)
Pressure:
150 PSI Operating
Internals:
Engineered Thermoplastic
Product Videos
Product Reviews
Works great and easy to install.

The meter seems well made and installed very easily.

Flows has been fantastic to order from. I had a faulty gallon calculator that got stuck on 9,999 gallons and wouldn't go any higher, so I got online to order another meter and decided to ask the Live Chat if I could fix it before ordering. They immediately shipped me a new 1 for free, no questions asked. This is my second water meter I've ordered through them and would definitely order with them again. Also, great service from the Live Chat, I believe her name was Michelle.

Work well. Wish they had a model without 4 readouts. But other than that very good.

Well made. Perfect for in-home use. Easy installation. Professional water metering.

worked great

Pleasantly surprised by this product

I am extremely impressed with the size and quality of the product I received yesterday. Your website pictures don't do it justice. I expected something cheap and not very good quality. Instead I received a much larger and more durable meter. Thank you so much!

Great

Economy Plastic Water Meter - WM-PC Series

Good customer support - Customized PPG setting. TImely delivery. Easy installation.

easy install; good quality for cost

easy install; good quality for cost
You May Also Like...