Product Description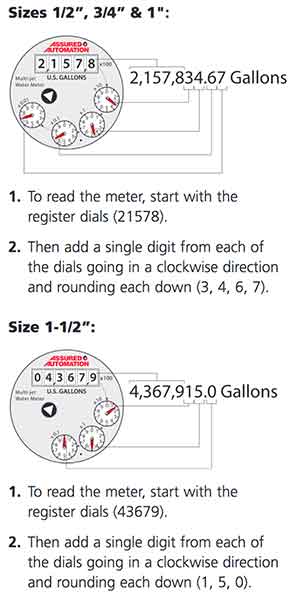 The WM-PC Series economy plastic water meter is excellent for residential water metering. It uses the multi-jet principle to measure flow totals. The gear train drives the register totalizer dials. In addition, a pulse
output is an option when you want to send the data to a remote location. The 1/2", 3/4" and 1" meters come set with 1 Pulse/Gallon (3/4" Cubic Feet set for 1 pulse/cubic ft) and the 1 1/2" meters come set with 1 Pulse/10 Gallons. This water meter is BPA free and NOW ARE NSF 61/372 CERTIFIED to meet lead free regulations. They are also designed to meet the AWWA C708 Standards.
These meters are frequently used as a low cost solution for residential water measuring. This product is the rare example of when inexpensive doesn't equal "cheap"! It's one of the least expensive water meters on the market and ideal applications would be using the WM-PC as a Sewer Deduct Meter or Summer Meter to monitor water that is used outdoors and never passes through to the sewer system. Many municipalities will allow home owners to deduct their outdoor water use from their sewer bill.
All meters come with plastic fittings.
*NOTE - Bulk discounts for basic meter only. Not applicable to add-on items like garden hose adapters

Download Datasheet for Details & Specifications

Download Manual for Installation & Maintenance
Model No.
Size
Flow Rate (GPM)
Normal Flow (GPM)
High
Continuous
Low

WM-PC-050

5/8" X 1/2"

20

10

0.25

1-20

WM-PC-075

5/8" X 3/4"

20

10

0.25

1-20

WM-PC-100

1"

50

25

0.75

3-50

WM-PC-150

1 1/2"

100

50

1.5

5-100
WM-PC Materials & Specifications

Temperature

105

⁰ F (40⁰ C) max

Pressure

150 PSI operating max

Materials Body/Couplings

FRP (fiber reinforced polymer)

Internals

Engineered Thermoplastic

Magnet

Alnico

Accuracy

+/- 1.5% within normal flow rate

Sensor

Reed Switch

Maximum Current

20 mA

Maximum Voltage

24 Vdc or Vac

Cable Length

4.5' (1.35m) std (2000' max run)
Installation Notes:
Once the adapter ends are installed on the upstream and downstream pipes, the meter is installed by tightening the collar nuts onto the inlet and outlet of the meter. These "true-union" fittings then allow the meter to be easily rotated to the proper orientation (face up), or removed for cleaning, repair, or replacement.
IMPORTANT!
These meter threads look practically identical to the NPT adapter threads BUT THEY ARE NOT!
Trying to install the meter without the adapter will damage the pipe's threads, the meter's threads, or BOTH!
Specifications
Installation Configuration:
Horizontal Only
Lead Free Status::
NSF Certified Lead Free
Sizes Offered:
1/2", 3/4", 1", 1 1/2"
Typical Shipping Time:
Usually same day or next day
Measurement Units:
Gallons (Cubic Feet in 3/4" only)
Accuracy:
+/- 1.5% of reading
Temperature Max:
105 Degrees F (40 Degrees C)
Pressure:
150 PSI Operating
Materials: Body:
FRP-Reinforced Polyamide
Pulse Output:
Optional (Can be installed in-field)
Internals:
Engineered Thermoplastic
Magnet:
Alnico
Sensor:
Reed Switch or Totalizer Only
Reed Switch Max Current:
20 mA
Reed Switch Max Voltage:
24 Vdc or Vac
Cable Length:
12' (4m) std 2000' max run
Product Videos
Product Reviews
Order was delivered the day after having been placed. Michelle identified a problem with the order and contacted me which resulted in some $$ savings.

1" Plastic Water meter WM-PC series

I wanted a water meter in my Rainwater Harvesting System (RHS) to track gallons of rainwater consumed. Surprised how expensive conventional water meters are, even though there are digital flow meters available at much less cost. So chanced this plastic analog meter, and it turns out to be a very high grade polymer and looks like it will last a long time. My RHS pump and distribution plumbing are inside my shop so water meter does not need to be brass or other metallic substance. The connections were true 1" MNPT. The product came in an amazingly sturdy, dense Styrofoam filled box and the package actually arrived a day early. So far, so good!

ASSURED AUTOMATION ECONOMY PLASTIC WATER METER - WM-PC SERIES

installed 40 and works well so far. Opted for upgrade to brass nipple, brass nuts will not thread onto this plastic body. However plastic nipples are not to bad.

Economy plastic water meter

Works great, easy to install and easy to read.

Was a great product for what I needed, along with a reasonable price. Lets me watch my well.

good meter with excellent price

I'm getting accurate pulse readings on this meter so far. 1 pulse = 1 gallon. I'm using it in my backyard tomato garden. I need a low flow system to keep water bill down, and the 1/2in. meter (with NPT adapters) is adequate for my flow. Water meter has standard counters but I only need pulses to show up on cloud server. This does the job.

reed switch output errors

The gage readout is accurate, but after observing errors in remote readout discovered that the remote readout jumps 2-4 gallons at a time when my Dankoff Solar Force piston pump is running to repressurize my pressure tank, probably due to pressure pulsations. Any ideas?

RESPONSE FROM FLOWS.COM:
Customer was able to remedy the situation by securing the meter better to protect it from mechanical shaking when the magnet was passing the switch at the same time the piston pump was bringing pressure back up. In addition, he did have a defective reed switch which was replaced at no charge.

I've purchased a few of these to hook up with ice machines for filter changing. I also got a cheap digital counter to hook the meter to for number of gallons. Everything has been working good so far.

Meter is well built & seems to function correctly. Either the instructions on how to read it are labeled incorrectly or the metering display & dials are from the 1/2"-3/4" meter. Was shipped promptly & delivered on time. Great service.
RESPONSE FROM FLOWS.COM:
Thanks for the feedback! Yes, the manual you have is incorrect. The meter face changed for the 1" when we got it NSF certified. The 1" now reads like the 1/2" and 3/4" meters. The manual is changed on the site. Here's the link: http://www.flows.com/content/literature/Manuals/AA_User_Manual_WM-PC.pdf
We'll make sure the correct manuals are shipped in the future. Thanks again!
You May Also Like...